Guide to MILLER MAE's Pearl Necklaces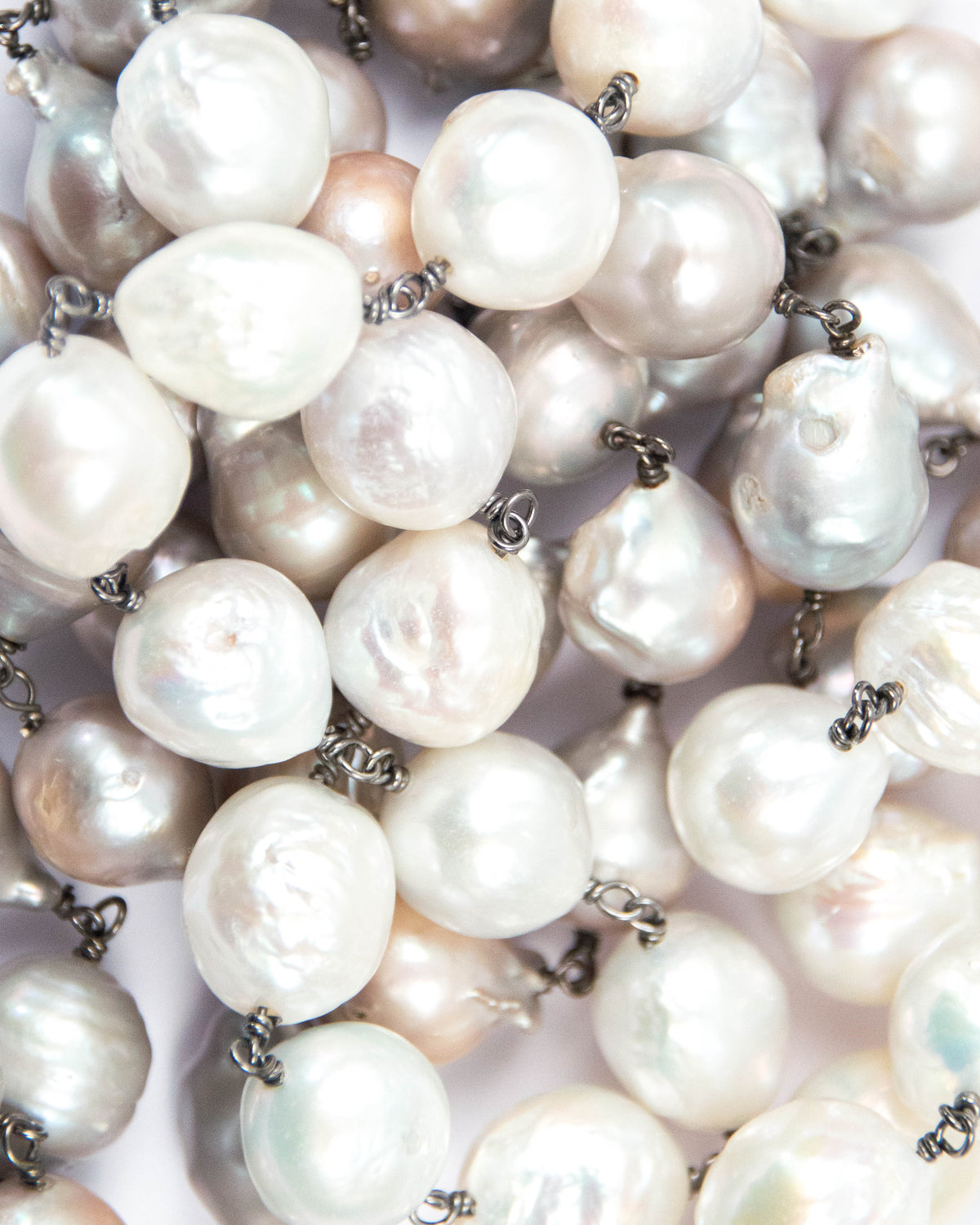 Along with Spring 2018, we've been adding a lot of pearls to the site recently.  With those pearls comes a lot of terminology - freshwater, saltwater, round, baroque, peacock - what does it all mean?  I've decided to write a quick guide to our pearls here to hopefully answer some questions!
Freshwater versus Saltwater
At first glance, this comparison is fairly obvious in referring to the type of water in which the pearls formed.  This also makes a difference, though, in the type of mollusks creating the pearls.  Freshwater pearls have a softer luster to them than saltwater, but are slightly more durable.  This is due to the different amounts of nacre in the pearl (nacre = mother of pearl).  
Round
Again, fairly easy to distinguish - round pearls are exactly that; spherical-shaped pearls.  These are the type and shape that we most generally think of when thinking of pearls.  The more perfect the round shape, the higher the value in the pearl.  Many freshwater pearls are semi-round or oblong-round, giving them that oval shape.  
Baroque
The other side to the pearl shape spectrum is irregularly shaped pearls, more commonly called "baroque".  These pearls can form in both freshwater and saltwater, but the majority we sell are saltwater-formed.  They are any pearl that doesn't have the round shape.  The best part about this shape is that every single pearl is completely unique.  
Color
Although pearls can be dyed, they do naturally form in a wide spectrum of colors.  Note - we currently only used naturally colored pearls as shown in the photos below!
Grey - there's a reason that "pearl grey" is a color!  Although darker shades of grey can show in natural pearls, the majority show in that paler, elegant shade of grey.  An exception is the blue/green-grey shades of the oh so famous Tahitian Pearl - we don't have any in the shop as of now, but I might be hinted to planned future projects *wink wink*.  
Pink - Pink pearls tend to run look like a pale pink shade with beige/sandy overtones, making them the perfect warm neutral.  I love the pairing of this warm color with the cooler oxidized silver wire, giving it an almost mixed metal (gold and silver) look.
White - Forever the classic, white pearls are what everyone imagines the moment they think of pearls.  Ranging from a bright white to a warm, creamy white; these pearls' timeless look have lent them popularity throughout the ages and will continue to do so for many decades to come!
Peacock - umm what?  Yes, you read that correctly!  These pearls' truly unique coloring features blue/purple/green overtones on top of either a black or grey base.  The naming comes from the similarities between these pearls and a peacock's feathers.  
There you have it!  You've made it to the end of my actually not so short guide to pearls (sorry).  Hopefully this crash course has helped you find the perfect fit for you and your wardrobe!
Have any questions?  Message us at info@millermaedesigns.com - I try to respond within a couple of hours during the day (EST) on weekdays; and within 24 hours otherwise!
Thank you,
Barrett
MILLER MAE DESIGNS
|
Posted on March 27 2018